by Tomoko Otake Taken from: http://www.japantimes.co.jp/life/2012/05/27/people/junko-tabei-the-first-woman-atop-the-world/#.UZTaz0pVZOI
Almost exactly 37 years ago, on the morning of May 16, 1975, then 35-year-old Junko Tabei and her Sherpa guide Ang Tshering reached the 8,763-meter South Summit of Mount Everest — their final halt before pushing on to the 8,848-meter peak itself.
They made just enough room in the heavy snow to sit down. But when she realized what her next challenge would be, she shuddered with shock and anger, she says.
In front of Tabei, who had already cleared numerous danger spots while also coping with the physical and mental stresses of high-altitude climbing, was an icy, knife-edge ridge forming part of the border of Nepal and China.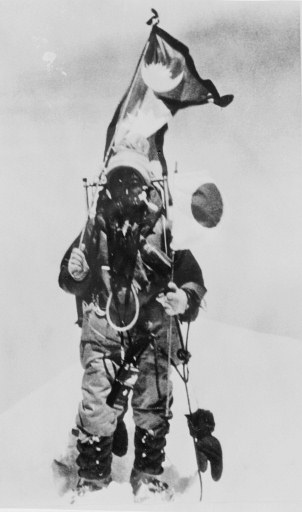 She would have to make a downward traverse of this ridge for about 14 or 15 meters — knowing that one mistake would send her plunging 5,000 meters on the northern, Chinese side or down to around 6,400 meters on the Nepalese side, where she could just see her Japanese Women's Everest Expedition's Camp II.
"I had no idea I would have to face that, even though I'd read all the accounts of previous expeditions," Tabei recalled recently at her office in Tokyo. "I got so angry at the previous climbers who hadn't warned me about that knife-edge traverse in their expedition records."
But there was no turning back. With her eyes fixed on the end of the ridge, Tabei slowly and carefully crawled along sideways, gripping it with her hands as she kept her her upper body on the Chinese side while her lower body was on the Nepalese side, and she tried to get some grip by kicking her crampon points into the ice. "I had never felt that tense in my entire life," Tabei said. "I felt all my hair standing on end."
On that day, the Fukushima native made history in the world of mountaineering by becoming the first woman to scale Mount Everest, the highest mountain of Earth. Her feat was also heralded as a symbol of the huge strides Japanese women had made in their long struggle for equality and freedom of choice — strides exemplified in part by Tabei herself forming the Ladies Climbing Club: Japan in 1969 after graduating with a degree in English literature from Showa Women's University, where she started climbing mountains.
"Back in 1970s Japan, it was still widely considered that men were the ones to work outside and women would stay at home," said Tabei, who left her then 3-year-old daughter in the hands of her husband, also a mountaineer, and her relatives, when she went on that Everest expedition.
"Even women who had jobs — they were asked just to serve tea. So it was unthinkable for them to be promoted in their workplaces."
Against such a background, Tabei says few people believed in the possibility of her going on a 15-member, all-women expedition to the Himalayas — and fewer still supported their plan (helped by Japanese media sponsorship) to scale the highest mountain in the world. "We were told we should be raising children instead," she recalls.
However, the women in the group, of which Tabei was the deputy leader, never gave up, and they prepared for the Everest climb carefully and with lots of planning. She said the team decided on Everest after considering all the world's 14 mountains (in either the Himalayas or the Karakoram range) more than 8,000 meters high — because they judged it would be a relatively easy climb beyond 8,000 meters. It also helped that they had access to the records of earlier climbers, including ones from Japan.
"There was never a question in my mind that I wanted to climb that mountain, no matter what other people said," she said with a smile.
Times have changed since then, though. Throughout the 1970s and '80s, the Nepalese government, which issues entry permits to Everest, restricted access to one party per route per season. But in the '90s, that rule was eased and climbers with a variety of climbing expertise began swarming in, lured by the glory and the prestige of scaling the world's highest mountain.
As a result, climbing Everest became a kind of leisure pursuit, with Sherpas, porters and other professional guides doing all the work for those who could pay, Tabei said. She gripes that some of those are called "Intensive Care Unit" climbers, as they get more than enough life-support from helpers, with Sherpas in front of them and behind and other expedition staff carrying their supplies, gear and oxygen tanks.
"Climbing Everest has become a status symbol, and even a big entertainment," she says. "People have started competing over the speed with which they've made the ascent, whether they climbed to the peak by themselves, and how old they were when they made it to the top. They have boasted how long they could stay on the summit, how long they were free of oxygen tanks, or how they managed to be naked on the peak. There's been this thinking that you have to do
something
to get attention."
Tabei says she is lucky to have climbed the mountain before such stunts became the norm. In her time, mountaineers aimed for Everest simply for the challenges and joys of climbing it.
On a positive note, however, Tabei says Everest has alerted her to environmental issues. She cites as her biggest inspiration the late Sir Edmund Hillary, who was, in 1953 along with Sherpa Tenzing, the first to reach the top of Everest.
In an 1989 interview, New Zealander Hillary, alarmed by the severe environmental damage being done to the mountain due to the increasing number of climbers, called for a five-year moratorium on Everest expeditions. Although his plea "to give the mountain a rest" went unheeded, due in part to opposition from Nepalis fearing a sudden loss of income, Hillary remained dedicated to improving the lives of the Sherpa people, and he worked hard on building schools and hospitals in Nepal until he died in 2007 at the age of 88.
Influenced by Hillary's environmental and philanthropic initiatives, Tabei has campaigned for sustainable mountaineering, and researched the garbage problem on Everest in graduate studies she undertook at Kyushu University. Her research included quantifying the amount of rubbish and refuse that has accumulated up there since the first expedition in 1923.
Tabei arrived at the conclusion, through questionnaires to mountaineering societies around the world and by poring over expedition records, that just at Base Camp, which is at an altitude of 5,364 meters, some 1.03 million liters of urine had been released by climbers and others as of 2000. "That is enough to fill 3,300 bathtubs," Tabei says. "And there are villagers (at the foot of Everest) who are dependent on meltwater from there for their living."
Tabei, who in 1992 also became the first woman in the world to reach the highest point on each of the seven continents, says her passion for mountaineering has never waned — noting that her dream now is to scale the highest mountain in every country of the world. So far she's done that in 60 countries, which means she's around a third of the way to her target of 196 or so. But she also enjoys visiting unique mountains.
"At New Year's this year, I was in Ethiopia, and because I had climbed the highest mountain there a long time ago, this time I went to (613-meter) Erta Ale (in the northeast)," she said excitedly. "I saw the red-hot lava moving there up close, and I was so excited to imagine what was going on at the core of Earth."
Now a 72-year-old mother of two grown-up children, Tabei says mountaineering will be her passion forever.
"I've never felt like stopping climbing — and I never will — even when I myself have seen people killed in accidents in the mountains," she said. "Of course every time it happens it's really shocking, but it will never stop me climbing."
Taken from: http://www.japantimes.co.jp/life/2012/05/27/people/junko-tabei-the-first-woman-atop-the-world/#.UZTaz0pVZOI
(16.05.2013)