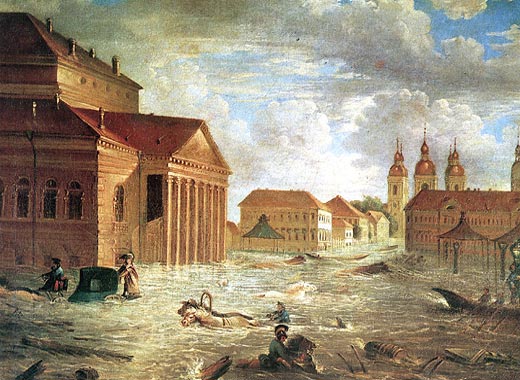 On this day in 1824, a flood on the Neva River in Russia claims an estimated 10,000 lives.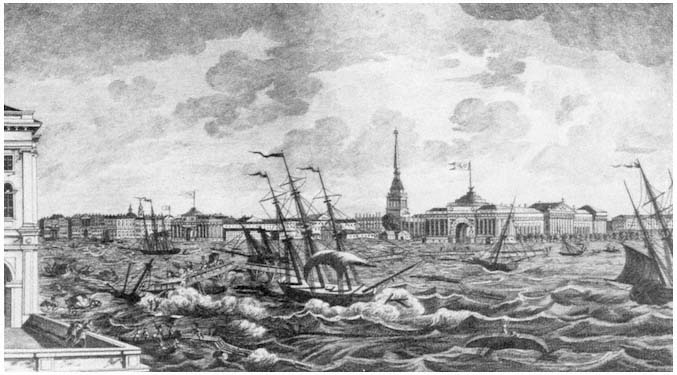 Winter came early to Russia in 1824. The very cold weather caused blocks of ice to form on the Neva River, near the city of St. Petersburg. Enough ice developed that the river's flow was nearly stopped for several weeks. Water backed up behind the ice, but did not freeze. As a result, when the weather briefly warmed, the ice jam broke apart and the water overwhelmed the city's dam.
The flood of icy cold water was the worst in the city's history. Hundreds of carriages and horses were swept away suddenly. Four hundred soldiers stationed in barracks climbed to the roofs to escape the flood, but were all killed. The water's freezing temperatures made staying alive in it for any length of time impossible. At the Kronshtadt port, hundreds of sailors were killed. The surge of water was so powerful that several ships were thrown into the city's marketplace.
Much of the city's rich cultural history was lost in the flood. Valuable and irreplaceable books and art were damaged beyond repair. Even Czar Alexander I's royal palace suffered extensive damage, as water rose above the first floor of most of the city's buildings. Although exact numbers are impossible to determine, it is generally believed that as many as 10,000 people were killed.
1924 flood pictures:
Taken from:
http://www.history.com/this-day-in-history/thousands-perish-in-st-petersburg-flood
[19.11.2013]