Frederick Courtney Selous was one of the more interesting characters of Imperial Africa and one of the great white sons of Africa.
Probably the most potent illustration of how Selous impacted the popular British consciousness at the time is the fact that he is the recognised prototype of Ryder Haggard's popular character Allan Quartermaine of King Solomon's Mines fame. This may not mean much to modern readers, but in fact Quartermaine was a potent a hero in his day as Rambo was in the 1980s and Indiana Jones was in the 1990s.
Frederick Selous was also more than this. He defined the popular image of the Englishman abroad. This was not in the pattern of Cecil John Rhodes whose questionable capital adventures brought ignominy upon the Crown and the Foreign Office and shame on the legacy of colonial Britain. Others such as David Livingstone tended to create an aura of eccentricity and failure about the vast development projects proposed in the aftermath of his discoveries. Selous, on the other hand, was phlegmatic, educated, thoughtful and erudite. He was a champion of fair play in terms of the treatment of blacks by whites; a modest adventurer; a gentleman philosopher and the last of the great frontier individualists.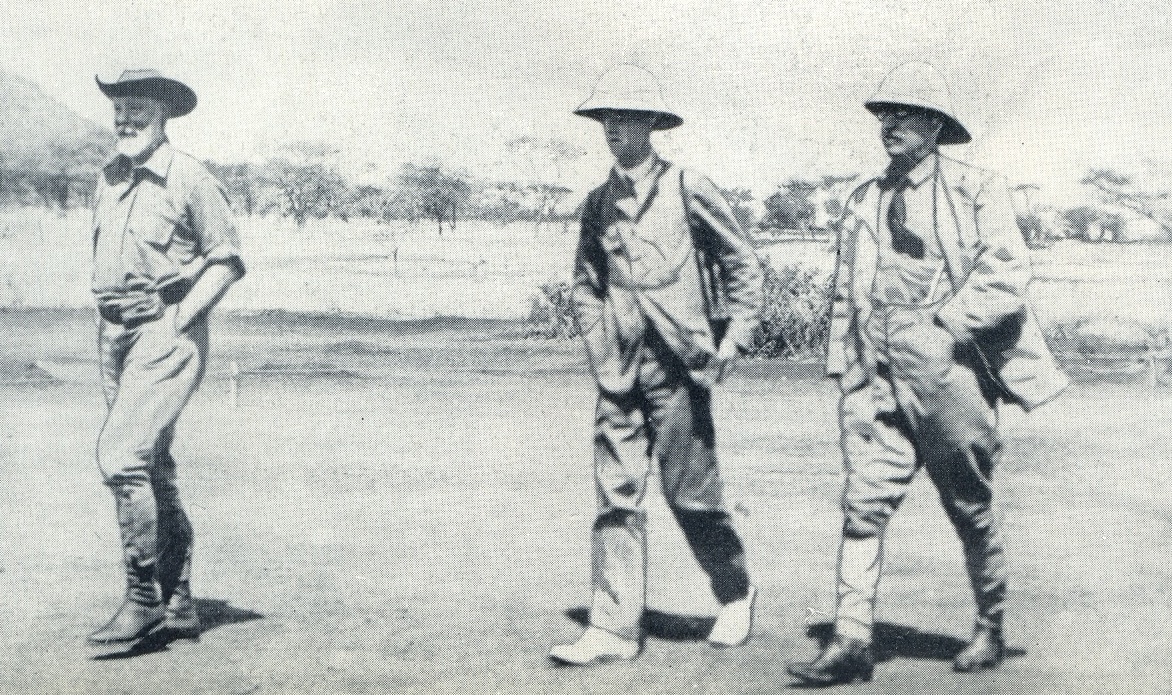 Born in December 1851 in the upscale London neighbourhood of Regents Park, Selous' birthright was upper-middle class, his father being a City of London financier and at one time Chairman of the London Stock Exchange. As a consequence the family were wealthy and well connected in the capital rich and class conscious society of England, and indeed the United Kingdom as a whole.
Selous' mother was perhaps more an influence on him as a child than his father. She was a published poet and a woman of highly developed cultural instructs, and it was from her that Selous acquired the beginnings of a lifelong love of poetry and literature, and indeed his own published works reveal a light literary hand and a great sensitivity in verse and prose. His three sisters and one brother were all successful in careers within the arts, sciences and business, although it was only Frederick himself who chose a career or such unique divergence, and one that would ultimately mark him as a star of his generation.
Africa beckoned early, and armed with a general interest in natural history and a fascination with lives of early explorers, he set off for the Cape at the age of 19 and began this his long career as a hunter and explorer. His journeys took him to many little known and unexplored regions of the continent where he hunted extensively, collected for various museums of scientific collection and generally acquired an in-depth knowledge of the sun-continent and a unique acquaintance with many local chiefs and monarchs.
A notable exception to this was in the case of the amaNdebele King Lobengula who nurtured a deep and enduring hatred of Selous. This came about as a consequence of his support and advocacy of the rights and authority of various maShona chiefs who were ostensibly at that time under amaNdebele suzerainty. Another reason, of course, was Selous association with Cecil John Rhodes, the English empire builder and capitalist who was ultimately responsible for the annexation of Matabeleland and the eventual dispossession of both the maShona and the amaNdebele.
It was this chapter of Selous life that is most interesting and controversial. In his book Sunshine and Storm in Rhodesia, Selous is quite trenchant in his determination to see the amaNdebele crushed and their last vestiges of resistance to white rule shown to be futile. This does not necessarily debunk the popular perception of Selous as being a liberal. A liberal in race relations he was (he fathered a half caste child by a amaNdebele concubine), he simply reflected a more rigid liberalism than would be normal in the modern day.
As military man Selous had little practical experience. His value during the Matabele Rebellion in Rhodesia in 1896 was largely his skill as a scout and his general fluency with native languages and behaviour. Later, during
World War I
, he was refuse service in the Rhodesian units, namely the 1st and 2nd Rhodesia Regiments, and ultimately sought a commission in the 25th Battalion the Royal Fusiliers in order that he could make a contribution.
His contribution to the East Africa Campaign in particular was signature since he was one of very few white in the Allied camp who knew the territory. Selous was then 64-years old. He contributed to a number of actions before he was killed by a sniper on the Rufigi River on January 4 1917.
The legacy of a man such as Selous is very difficult to define. His influence was felt during his life over a vast swathe of the continent. His moral legacy is more difficult to define, nut as a man of nature and a conservationist it is perhaps the vast Selous National Park where the most potent statement of his value has been made.
Selous was an imperialist at the core, and so believed passionately that the influence of the British Empire was benign. Where he would stand in the current debate on Africa it is hard to imagine, but one can only assume that his contribution would be wise, thoughtful and positive.