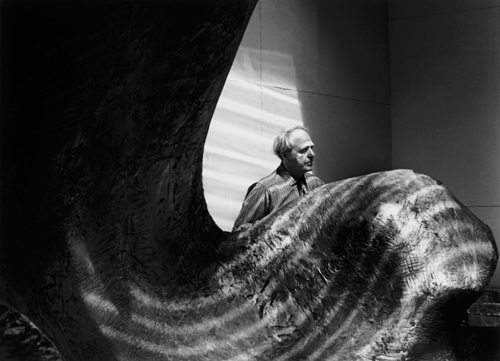 English sculptor Henry Moore is born in Castleford, Yorkshire, on July 30, 1898. The son of a coal miner, he overcame early criticism of his work to become one of the most acclaimed sculptors of the 20th century. His majestic, semi-abstract sculptures of the human figure are characterized by their smooth, organic shape and often include empty hollows that evoke form as meaningfully as solid mass.
The seventh of eight children, Moore grew up in the small coal-mining town of Castleford in northern England. His father was an ambitious man who taught himself advanced mathematics in order to rise from ordinary miner to the position of mining engineer. Moore decided he wanted to become a sculptor at age 11, after hearing a Sunday school story about Michelangelo. He served in France during
World War I
and in 1917 was injured in a gas attack. After being demobilized in 1919, he won a veteran's grant to study at the Leeds School of Art in West Yorkshire. In 1921, he was awarded a scholarship to study at the Royal College of Art in London.
At London's libraries and museums, he studied Egyptian, Etruscan, Pre-Columbian, Oceanic, and African sculpture, and he brought the vital spirit of this artwork into his early sculpture. This effort was often ridiculed by his instructors, and in his first year at the Royal College one of his teachers remarked, "this young man has been feeding on garbage." He was also deeply influenced by the semi-abstract paintings of Paul Cezanne, such as the
Large Bathers
(1900-1905), which shows monumental reclining nudes integrated into an abstract landscape. The reclining human figure would become a central theme in Moore's sculpture.
After graduating from the Royal College in 1924, he traveled and taught art and in 1928 was given his first one-man exhibition at the Warren Gallery in London. Appreciated by his fellow avant-garde artists but lacking a wider public audience, Moore taught to support himself as he continued to develop his art. His first major mature work was
Reclining Figure in Wood
(1936), a highly abstract depiction of the human form. That year, Moore was included in the "Cubism and Abstract Art" show at
New York City
's Museum of Modern Art, which became an important patron of the English artist.
During
World War II
, Moore's studio was damaged by bombs, and sculpture material was difficult to come by. He turned to drawing and as a commissioned war artist produced a series of drawings of Londoners huddled in the underground bomb shelters. The
Shelter Drawings
(1940) seemed to capture the spirit of the times and brought Moore his first great fame. In 1946, he was given a major retrospective by the Museum of Modern Art, and in 1948 he won the Grand Prize for Sculpture at the 24th Venice Biennale. From thereon, Moore's reputation was firmly established, and he began to receive major public commissions for sculptures in bronze and marble.
In addition to the reclining figure, other common themes of Moore's sculpture include the mother and child, family groups, and fallen warriors. Among his major commissions were sculptures for UNESCO headquarters in Paris (1957-58), for Lincoln Center in New York City (1963-65), for the University of
Chicago
(1964-66), and for the East Building of the National Gallery of Art in
Washington, D.C.
(1978). For the last four decades of his life, he lived unostentatiously in a farmhouse in Much Hadham, 30 miles north of London. He died in 1986.
Taken from:
http://www.history.com/this-day-in-history/henry-moore-born
[30.07.2013]