Despite worldwide demonstrations in support of their innocence, Italian-born anarchists Nicola Sacco and Bartolomeo Vanzetti are executed for murder.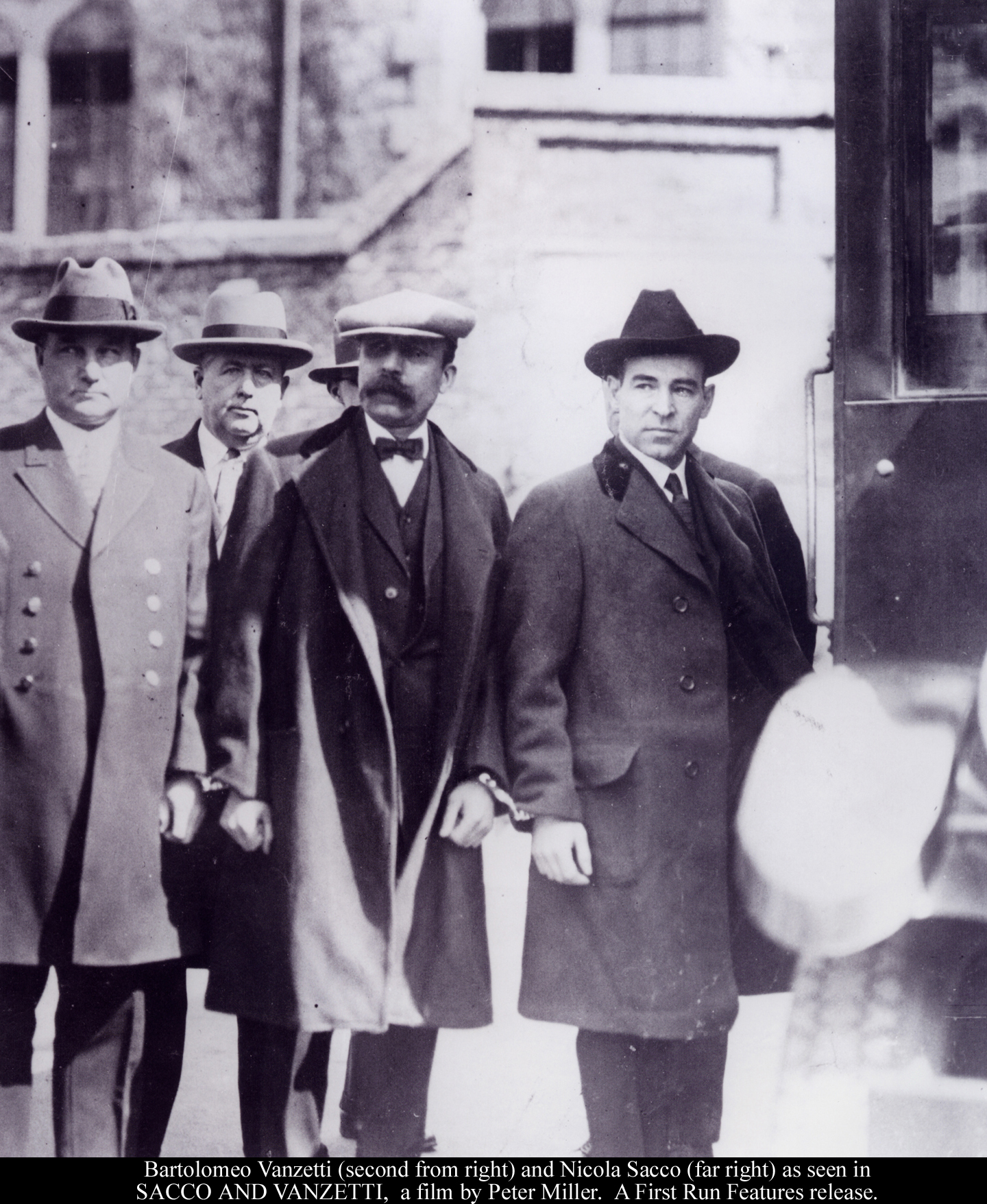 On April 15, 1920, a paymaster for a shoe company in South Braintree,
Massachusetts
, was shot and killed along with his guard. The murderers, who were described as two Italian men, escaped with more than $15,000. After going to a garage to claim a car that police said was connected with the crime, Sacco and Vanzetti were arrested and charged with the crime. Although both men carried guns and made false statements upon their arrest, neither had a previous criminal record. On July 14, 1921, they were convicted and sentenced to die.
Anti-radical sentiment was running high in America at the time, and the trial of Sacco and Vanzetti was regarded by many as unlawfully sensational. Authorities had failed to come up with any evidence of the stolen money, and much of the other evidence against them was later discredited.
During the next few years, sporadic protests were held in Massachusetts and around the world calling for their release, especially after Celestino Madeiros, then under a sentence for murder, confessed in 1925 that he had participated in the crime with the Joe Morelli gang.
The state Supreme Court refused to upset the verdict, and Massachusetts Governor Alvan T. Fuller denied the men clemency. In the days leading up to the execution, protests were held in cities around the world, and bombs were set off in
New York City
and Philadelphia. On August 23, Sacco and Vanzetti were electrocuted.
In 1961, a test of Sacco's gun using modern forensic techniques apparently proved it was his gun that killed the guard, though little evidence has been found to substantiate Vanzetti's guilt. In 1977, Massachusetts Governor Michael Dukakis issued a proclamation vindicating Sacco and Vanzetti, stating that they had been treated unjustly and that no stigma should be associated with their names.
Taken from:
http://www.history.com/this-day-in-history/sacco-and-vanzetti-executed
[23.08.2013]
More info on the case:
http://www.mass.gov/courts/sjc/sacco-vanzetti-1.html
On the afternoon of April 15, 1920, two men were killed in a payroll robbery at the Slater and Morrill shoe factory in South Braintree.
The Payroll Office



At approximately 3:05 p.m., paymaster Frederick A. Parmenter and guard Alessandro Berardelli left the company's executive office carrying a cash payroll of $15,776.51.

The Shooting



Walking toward the company's main factory, about 200 yards away, they were assaulted by two gunmen. Berardelli was shout four times and Parmenter twice.

The Robbery



The robery site -- just beyond the Rice and Hutchins shoe factory on Pearl Street, South Braintree.

The Signal Shot



Seizing the payroll, the robbers reportedly fired a signal shot. A dark Buick, parked by the Slater and Morrill factory, sped up Pearl Street from the opposite direction.

The Escape



The robbers escaped over nearby railroad tracks, dropping nails to flatten the tires of any cars that might follow. Turning the corner of Washinton Street, they quickly vanished.