The
Pietà
(1498–1499) is a
masterpiece
of
Renaissance
sculpture
by
Michelangelo
Buonarroti, housed in
St. Peter's Basilica
in
Vatican City
. It is the first of a number of works of the same theme by the artist. The statue was commissioned for the
French
cardinal
Jean de Billheres
, who was a representative in Rome. The sculpture, in
Carrara marble
, was made for the cardinal's funeral monument, but was moved to its current location, the first chapel on the right as one enters the basilica, in the 18th century. It is the only piece Michelangelo ever signed.
This famous work of art depicts the body of
Jesus
on the lap of his mother
Mary
after the
Crucifixion
. The theme is of Northern origin, popular by that time in France but not yet in Italy. Michelangelo's interpretation of the
Pietà
is unique to the precedents. It is an important work as it balances the
Renaissance
ideals of
classical beauty
with naturalism. The statue is one of the most highly finished works by Michelangelo.
The process took less than two years. The
Pietà'
s first home was the Chapel of Santa Petronilla, a Roman mausoleum near the south transept of St. Peter's, which the Cardinal chose as his funerary chapel. The
chapel
was later demolished by
Bramante
during his rebuilding of the basilica. According to
Giorgio Vasari
, shortly after the installation of his
Pietà
Michelangelo overheard (or asked visitors about the sculptor) someone remark that it was the work of another sculptor,
Cristoforo Solari
, whereupon Michelangelo signed the sculpture.
[

3

]
Michelangelo carved MICHAELA[N]GELUS BONAROTUS FLORENTIN[US] FACIEBA[T] (Michelangelo Buonarroti, Florentine, made this) on the sash running across Mary's chest. The signature echoes one used by the ancient Greek artists,
Apelles
and
Polykleitos
. It was the only work he ever signed. Vasari also reports the anecdote that Michelangelo later regretted his outburst of pride and swore never to sign another work of his hands.
[

4

]
[

5

]
In subsequent years the
Pietà
sustained much damage. Four fingers on Mary's left hand, broken during a move, were restored in 1736 by
Giuseppe Lirioni
, and scholars are divided as to whether the restorer took liberties to make the gesture more 'rhetorical'. The most substantial damage occurred on May 21, 1972 (
Pentecost
Sunday) when a mentally disturbed geologist named
Laszlo Toth
walked into the chapel and attacked the sculpture with a
geologist's hammer
while shouting "I am Jesus Christ."
[

6

]
Onlookers took many of the pieces of marble that flew off. Later, some pieces were returned, but many were not, including Mary's nose, which had to be reconstructed from a block cut out of her back.
After the attack, the work was painstakingly restored and returned to its place in St. Peter's, just to the right of the entrance, between the
Holy door
and the altar of
Saint Sebastian
, and is now protected by a bullet-proof
acrylic glass
panel.
The sculpture was shipped to
New York
in 1964 in order to become the main draw for the Vatican pavilion at the
1964 New York World's Fair
, where it was viewed by millions. A copy was transported beforehand to ensure that the statue could be conveyed without being damaged. This copy is on view at
St. Joseph's Seminary, Dunwoodie
, in
Yonkers
.
[

citation needed

]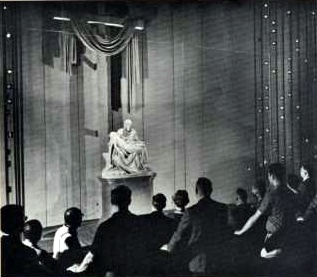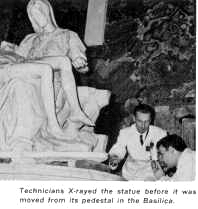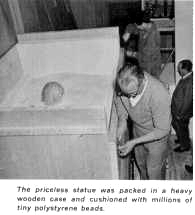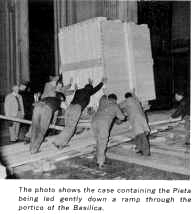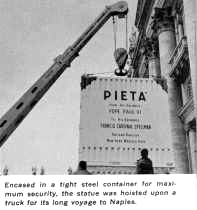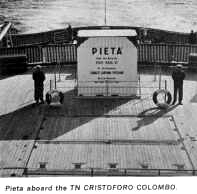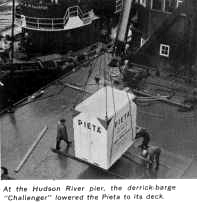 Taken from: http://en.wikipedia.org/wiki/Piet%C3%A0_%28Michelangelo%29 [26.08.2013]