Abebe Bikila
(August 7, 1932 – October 25, 1973) was a double Olympic
marathon
champion from
Ethiopia
, most famous for winning a marathon
gold medal
in the
1960 Summer Olympics
while running barefoot. A
stadium
in
Addis Ababa
is named in his honor.
[1]
Background
1932–1959
Abebe Bikila was born on August 7, 1932, the day of the
Los Angeles Olympic Marathon
, in the village of
Jato
, located 25 kilometers outside the town of
Mendida
, Ethiopia. His father was a shepherd. Abebe decided to work for the
Imperial Bodyguard
to support his family, and walked
[

citation needed

]
over 20 kilometer to
Addis Ababa
where he started as a private bodyguard for the members of the royal family.
Onni Niskanen
, a
Finnish
-born
Swede
, was hired by the Ethiopian government to train potential athletes. He soon spotted Bikila.
1960 Summer Olympics
Bikila was added to the Ethiopian Olympic team only at the last moment, as the plane to
Rome
was about to leave, as a replacement for
Wami Biratu
, who had broken his ankle in a football match. Major Onni Niskanen entered Bikila and
Abebe Wakgira
in the
marathon
.
Adidas, the shoe sponsor at the
1960 Summer Olympics
, had few shoes left when Bikila went to try out shoes and he ended up with a pair that didn't fit comfortably, so he couldn't use them. A couple of hours before the race, Bikila decided to run barefoot, the way he'd trained for the race. Bikila was warned by Niskanen about his main rivals, one of whom was
Rhadi Ben Abdesselam
from Morocco, who was supposed to wear number 26. For unknown reasons, Rhadi did not acquire his black marathon
bib
before the race, and instead was wearing his regularly assigned track and field bib number 185.
The late afternoon race had its start point and finish at the
Arch of Constantine
, just outside the Colosseum.
During the race Bikila passed numerous runners as he searched for Rhadi's number 26. By about 20 km, Bikila and Rhadi (actually wearing number 185) had created a gap from the rest of the pack. Bikila kept looking forward to find the runner with number 26, unaware that Rhadi was running right beside him. They stayed together until the last 500 m, when Bikila sprinted to the finish line. Bikila won in a record time of 2:15:16.2, becoming the first
Sub-Saharan African
to win an Olympic gold medal. He finished 25 seconds ahead of Rhadi.
[2]
After the race, when Bikila was asked why he had run barefoot, he replied, "I wanted the whole world to know that my country, Ethiopia, has always won with determination and
heroism
."
1960–1964
On 13 December 1960, while Haile Selassie was on a state visit to Brazil, his Imperial Guard forces, led by General Mengitsu Neway, staged an unsuccessful
coup
, briefly proclaiming Selassie's eldest son Asfa Wossen as Emperor. Fighting took place in the heart of Addis Ababa, shells detonated inside the
Jubilee Palace
, and many of those closest to the Emperor were killed.
Bikila took no part in the uprising, but was briefly held in detention after the coup. Most of the surviving Guards were disbanded and dispersed. One newspaper remarked boldly: "Abebe owes his life to his gold medal."
[3]
In 1961, Bikila ran marathons in
Greece
,
Japan
, and
Košice
in
Czechoslovakia
, all of which he won. Bikila entered the 1963
Boston Marathon
and finished in just 5th place—the only time in his career that he finished a marathon and did not win.
[4]
He returned to Ethiopia and he didn't compete in another marathon until the one in Addis Ababa in 1964. He won this race, taking 2:23:14 to complete the course.
40 days prior to the
1964 Summer Olympics
in Tokyo, during a training run near Addis Ababa, Abebe Bikila started to feel pain. Unaware of the cause of the pain, he attempted to overcome this pain but collapsed. He was taken to the hospital where he was diagnosed with acute
appendicitis
. He was operated on and shortly thereafter and even during his recovery period he started jogging in the hospital courtyard at night.
1964 Summer Olympics
Abebe Bikila traveled to Tokyo but was not expected to compete. He did enter the marathon.
[5]
He used the same strategy as in 1960: to stay with the leaders until the 20 kilometer point, then slowly increase his pace. After 15 km he only had company from
Ron Clarke
of Australia and
Jim Hogan
of Ireland. Shortly before 20 km only Hogan was in contention and by 30 km, Bikila was 40 seconds in front of Hogan and two minutes in front of
Kokichi Tsuburaya
of Japan in third place. He entered the Olympic stadium alone to the cheers of 70,000 spectators. He finished the marathon in a new
world record
time of 2:12:11:2; 4 minutes, 8 seconds in front of the silver medalist
Basil Heatley
of Great Britain. Kokichi Tsuburaya was third. He was the first athlete in history to win the Olympic marathon twice.
[6]
After finishing he astonished the crowd: not appearing exhausted, he started a routine of
stretching exercises
. He later stated that he could have run another 10 kilometers.
Bikila returned to Ethiopia to a hero's welcome once again. He was again promoted by the Emperor, and he received his own car, a white
Volkswagen Beetle
.
1968 Olympics
Once again Bikila and
Mamo Wolde
were entered in the marathon (symbolically, Bikila was issued bib number 1 for this race). This time however Bikila had to leave the race after approximately 17 km, due to an injury in his right knee. According to Bud Greenspan's Favorite Stories, an Olympics documentary, Bikila broke a small bone in his foot a few days before the race, while running barefoot. He watched his friend and long time running partner Mamo Wolde win. Mamo Wolde later stated that if Bikila had not been injured, he would surely have won.
[7]
1969–1973
In 1969, during
civil unrest
in Addis, Bikila was driving his Volkswagen Beetle when he had to swerve to avoid a group of protesting students. He lost control of his car and it landed in a ditch, trapping him. He was freed out of the car but the accident left him
quadriplegic
. He was operated on at the
Stoke Mandeville Hospital
in
England
and his condition improved to
paraplegic
. Niskanen convinced him to compete in
archery competitions for athletes in wheelchairs
and Abebe joked that he would win the next Olympic marathon in a wheelchair.
Abebe was invited as a special guest to
the 1972 Summer Olympics
in Munich where he witnessed his countryman
Mamo Wolde
fail to match Bikila's twin marathon victories; Wolde finished third behind American
Frank Shorter
. After Shorter received his medal he went to Bikila to shake his hand.
On 25 October 1973, Abebe Bikila died in Addis Ababa at the age of 41 from a
cerebral hemorrhage
, a complication related to the accident of four years earlier. He left behind his wife and four children. His funeral in Addis Ababa was attended by 75,000 and Emperor
Haile Selassie I of Ethiopia
proclaimed a
national day of mourning
for Ethiopia's national hero. Newspapers throughout Africa eulogized him as an inspiration to their own distance runners, some of whom won gold medals in future Olympics. Bikila was interred at Saint Joseph's Church Cemetery in Addis Ababa.
Five years after his death,
New York Road Runners
inaugurated an annual award in his honour – the
Abebe Bikila Award
, which is given to individuals for their contribution to long-distance running.
[8]
A stadium in Addis Ababa is named in his honor. The
American Community School of Addis Ababa
dedicated its gymnasium to Abebe Bikila in the late 1960s. In August 2005, with the assistance of
A Glimmer of Hope Foundation
and its supporters Isabel and Dave Welland, an Oromo school named Yaya Abebe Bikila Primary Village School was erected in Bikila's honor by the local Mendida community. The school sits a few hundred meters from the remains of the village of Jato.
In popular culture
Bikila's victory at the 1964 Olympics is featured in the 1965 documentary film
Tokyo Olympiad
. Footage from that film was later recycled for the 1976 thriller film
Marathon Man
.
Bikila was featured in the Bud Greenspan film "The Marathon". It chronicled his two Olympic victories and ended with a dedication ceremony for a gymnasium named for him shortly before his death.
2009
Atletu
(The Athlete) is a film directed by Davey Frankel and Rasselas Lakew which focuses on the final years of Bikila's life: his quest to regain Olympic glory, his accident (the circumstances of which are changed), his determination to compete again. The film was shot in 35mm, from the Arctic Circle to the Equator.
In 2010,
Vibram
introduced the "Bikila" model of its
FiveFingers
line of minimalist shoes.
Robin Williams
made reference to Bikila's barefoot running in his stand-up special "Weapons of Self Destruction", saying, "[Bikila] won the Rome Olympics running barefoot. He was then sponsored by Adidas. He ran the next Olympics; he carried the fucking shoes."
In 2010, the Rome Marathon celebrated 50 years of Abebe Bikila's Olympics Race. To honour him, Ethiopian runner
Siraj Gena
ran the last 300 meters of the race barefoot and won it (for this he was awarded 5000 euro bonus).
[

citation needed

]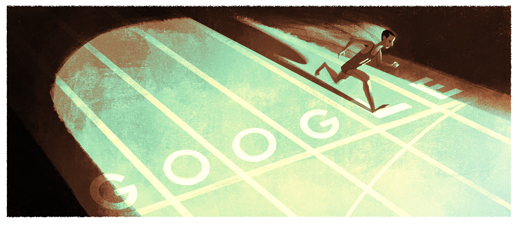 Taken from: http://en.wikipedia.org/wiki/Abebe_Bikila [07.08.2013]