Charles Stewart Rolls, the pioneering British motorist, aviator and co-founder (with Henry Royce) of the Rolls-Royce Ltd. luxury automobile company, is born on August 28, 1877, in London's upscale Mayfair district.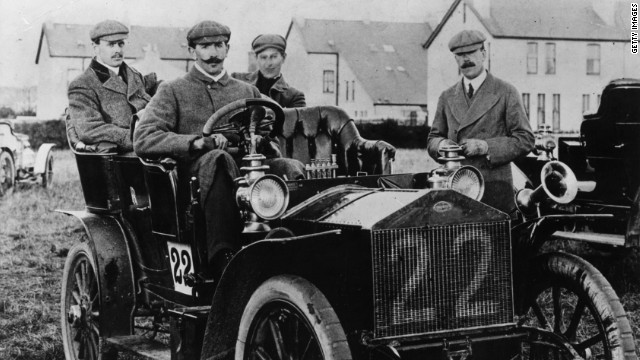 The third son of Lord and Lady Llangattock, who had their ancestral seat in Monmouth, Wales, Rolls was a card-carrying member of the British aristocracy. He was educated at Eton and at Cambridge University's Trinity College, where he first developed his love for the new sport of motoring. His first vehicle, a Peugeot with 3.75 horsepower, was the first car to be seen at Cambridge, and enabled him to drive home to Monmouth in an astonishingly quick time of two days. In 1900, Rolls drove a 12-horsepower Panhard car in the famous British auto race the Thousand Mile Trial; he also took part in a number of other early long-distance European races. Considered the best driver in Wales, he was reportedly responsible for changing the national speed limit at the time from 4 to 12 miles per hour.
In 1902, Rolls went into the business of selling cars. Two years later, at the Midland Hotel in Manchester, England, he met with Frederick Henry Royce, an electrical engineer of modest background who had his own engineering business, Royce Ltd., and had built several experimental cars of his own design. After that historic meeting, Rolls and Royce merged their firms in 1906 to form Rolls-Royce Ltd. The Rolls-Royce Silver Ghost, produced that year, became one of the world's most admired cars. While Royce was responsible for every aspect of car design, Rolls provided the bulk of the financing, as well as the social connections that helped make sales.
In addition to
automobiles
, Rolls became passionate about aviation, including hot air balloons and early airplanes. In February 1910, Rolls wrote to the inventor
Wilbur Wright
to complain about the Wright plane he had bought in Europe. In the letter, Rolls told Wright he had resigned his former position at Rolls Royce and taken another, which "does not require any regular attendance at the office," in order "to devote myself to flight." That June, Rolls became the first aviator to fly nonstop across the English Channel and back.
Tragically, on July 12, 1910, Rolls was killed when the tail of his plane snapped off in mid-air during a flying exhibition in Bournemouth, England. He was 32 years old.
Taken from:
http://www.history.com/this-day-in-history/charles-s-rolls-born
[28.08.2013]